Feeding pigs with soybean leaves can reduce feed costs by 25%
In the absence of protein feed in rural areas, feeding pigs with soybean leaves is one of the important ways to supplement protein. Feeding pigs with soybean leaves is very particular. Pick up the leaves and mix them into the feed during the wax maturity period. The addition amount is 30%, which can reduce the pig feed cost by 25%.
Freshly feed the collected fresh soybean leaves, remove impurities and foreign matter, and mix them directly into the pig's feed after chopped. It can be mixed with corn, bean cake, and wheat bran. The feed amount can account for the pig's daily feed intake. About 1/3.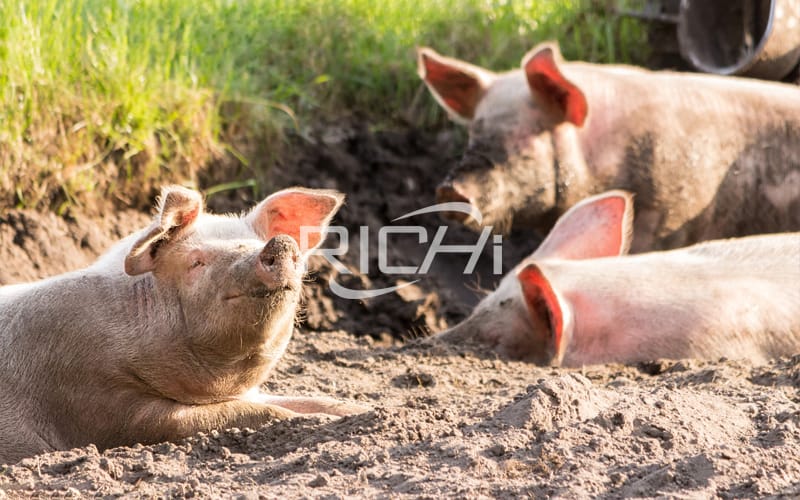 Soybean leaf powder Put the fresh soybean leaves in a dry and ventilated place, dry them in the shade to about 30% water content, then spread them out in the sun and dry them quickly, and the water content will drop below 10%. Then they can be crushed into soybean leaf powder with a crusher. This is convenient for storage. Soybean leaf meal can be mixed directly in the feed, or stored for a long time, and the feed amount can account for 20% to 40% of the daily feed.
The protein content of silage soybean leaves is high, but the sugar content is low. First, the fresh soybean leaves are sun-dried to about 50% moisture content, and then chopped with a knife, and placed in a silage cellar, silage tank or plastic bag, and compacted tightly. It usually takes 5 to 7 days to ferment. When unsealing, take it out from one side and cover it to prevent pollution. The feeding amount can account for 25% of the daily feed intake.
[More info about pigs]
(1)Pig feed production process
(2)hot selling pig feed pellet mill
(3)factory supply animal poultry cattle chicken fish pig feed hammer mill with CE
(4)small sized pig feed pellet making plant
(6)China manufacturer supply pig manure organic fertilizer pellet making plant