Richi Machinery Pellet Mills Support You For Various Feed&Biomass Pellet Plant Production
Up to now, Richi Machinery Pellet Mill has sold over 2000 units. The outstanding performance in material, energy consumption, heat treatment and stability provides strong support for feed&biomass manufacturers to build new feed production line or biomass pellet production lines or upgrade old pellet lines equipments.
In the 1995, Richi Machinery developed first-generation particle feed pellet mill. Over the past 25 years, Richi Machinery has accumulated rich manufacturing experience, mastered advanced manufacturing technology, and developed various types of pellet mills with different output including livestock and poultry feed, fish feed ,shrimp feed and biomass particle, to provide customers with personalized design and solutions to meet different market demands.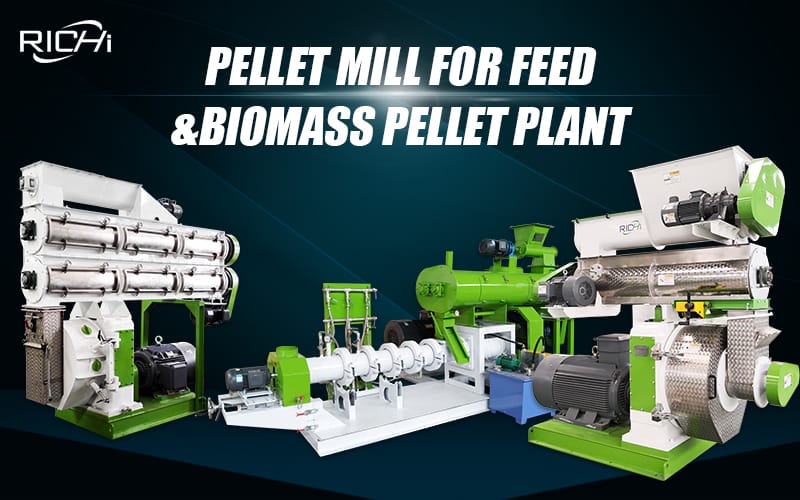 1.Richi Machinery SZLH Series Ring Die Livestock & Poultry Feed Pellet Mill
Bearing temperature measuring device monitors the temperature of key bearing in real time and judges the early failure of the bearing by temperature. External oil cooling and lubricating system can circularly cool the oil and key bearing down, and lubricate the key bearing simultaneously. Automatic oil lubricating system can realize non-stop oil adding regularly. Electric ring die lifting device can improve the assembly efficiency of ring die and roller. Electric cutting adjusting mechanism can improve the accuracy of clearance adjustment by operation screen.
2.Richi Machinery SZLH768 Fish Shrimp Feed Pellet Mill
Available for sinking and floating shrimp feed production. Equipped with external pneumatic discharging mechanism and improved feeding scraper to ensure smooth discharging and stable operation. Double jacket insulation conditioners and a double-shaft differential conditioner contributes to better conditioning performance.
3.Richi Machinery SZLH 558 Ruminant Feed Pellet Mill
Proper speed of ring die suitable for pig feed. Larger working area of ring die can help to increase the output. Multi-point steam admission conditioning ensures higher expanding degree. The angle of blade is optimized to prolong the conditioning time. Automatic steam control, frequency conversion feeding and automatic discharging when blocked. Optional feed quality optimization system can realize real-time online control of feed moisture. Ring die lifting device is also optional.
4.Richi Machinery MZLH Series Ring Die Wood Pellet Mill
Main shaft system uses double-support structure to avoid shaking and to provide more extrusion force from ring die. External control device of ring die and roller can realize gap adjustment without stop-working. Key components like main shaft, driving wheels and gears are made of quality alloy steel. Higher gear transmission efficiency and larger transmission torque make sure that production is increased by 15%.
Richi Machinery is committed to providing first-class feed&biomass equipment and systematic solutions for global customers, creating differentiated competitive advantage for the customers with state-of-the-art equipment and excellent quality control and making greater contribution to the sustainable development of global feed&biomass industry.
If you want to built one complete pellet production line in your country, pls send the inquiry to us. We will customized design according to your requirement.
Get The Quotation and Video.