Richi Machinery automatic control system of SZLH series ring die type animal feed pelletizing machine
RICHI mechatronic product is a part of Richi Machinery's high-tech product. This series of products are indispensable products for various animal feed mill plant factories to realize industrialization by technological progress, cost reducing and efficiency increasing.
The perfect combination of animal feed pellet mill machine + automatic control system has stable performance and long service life. Richi Machinery animal feed pellet milling machine can achieve long-term trouble-free and non-stop operation, constantly creating benefits for animal feed pellet making plants. Humanized and fully automatic operation, the main production efficiency can be increased by more than 15% compared with the same power type.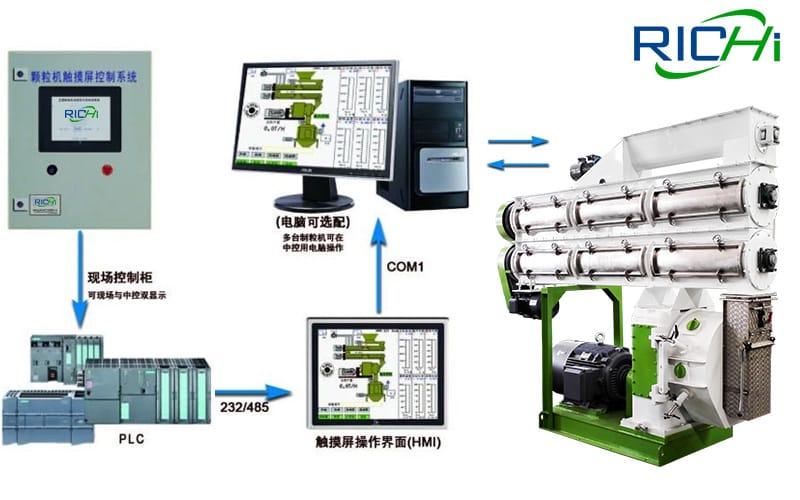 Advantages:
1. It is used for various types of ring die animal feed pellet mills with frequency control feeding and steam conditioning, realizing unmanned operation.
2.Reduce power consumption and increase production capacity by more than 15%.
3.All production data are stored in the system to check.
4.Full maturation is beneficial to animal absorption, reducing powder content and improving feed quality.
5.Automatically detect material's conditioning temperature, host current, and automatically adjust feed quantity and conditioning temperature.
6.It can extend the service life of ring die and reduce the animal feed line production cost.
7.Easy to operate and save labor costs.
8.Remote monitoring, maintenance. One central control computer can control several animal granule feed pellet mill machines.
9. For aquaculture feed production line, it can effectively control temperature and improve the quality of aquatic feed.
10. After-product control can solve the trouble of manual operation.
Richi Machinery Electric Control adheres to the firm commitment of "technology + service + quality", to create a high return animal feed pellet production line by intelligent means.
RICHI feed pellet mill series:
1-2t/h SZLH250 animal feed pellet machine
3-4t/h SZLH320 animal feed pellet mill
5-7t/h SZLH350 feed pellet making machine
8-12t/h SZLH420 China Pellet Mill
10-18t/h SZLH508 china supplier poultry farming feed pellet mill
15-25t/h SZLH558 animal pellet making machine
20-30t/h SZLH678 Feed Mill Equipment For Fish Feed
25-40t/h SZLH-768 Aquatic Feed Machine For Fish Feed
28-45t/h SZLH858 fish feed pellet making machine
If you want to built one complete pellet production line in your country, pls send the inquiry to us. We will customized design according to your requirement.
Get The Quotation and Video.