Small scale pig farm design in rural areas—scientific pig raising at the lowest cost
The pig industry is an important industry in agriculture. It plays an important role in ensuring the safe supply of meat and food. It is also an important part of the rural economy. But do you know how to design small rural pig farms?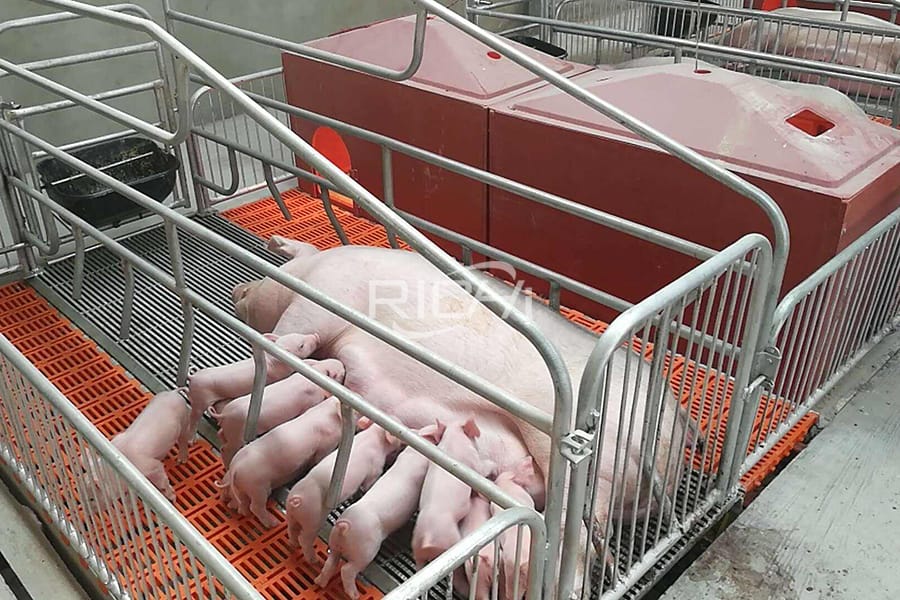 1. Attention should be paid to site selection  
(1) The terrain is required to be neat and open, so as to make full use of the site and rationally arrange the buildings to reduce the workload of cleaning the site before construction. The terrain is required to be dry, south-facing, flat or have a gentle slope. 
(2) Manure and urine are best digested naturally through nearby farmlands, orchards, fishing ponds, etc. It is a good fertilizer. Prevent environmental pollution.
(Maybe you are interested in pig manure organic fertilizer pellet production line)
(3) The transportation should be convenient, otherwise it will bring difficulties to production, employees' lives and product sales. 
(4) It should be built in places far away from urban areas, residential areas, and traffic arteries.
(5) Convenient water and power sources and low cost.
2. Introduction to the construction of pig farms
(1) The pig house should be designed as a rectangular building with east-west orientation.  
(2) It should be an open or closed pig house with good ventilation, shading and rain protection; the latter is to adjust the room temperature and ventilation for pig houses of all ages, and to prevent mosquitoes and flies in breeding areas In terms of this, they have more advantages than open pig houses.
(3) All pig farming equipment should be properly installed in place.
(4) Sewage drains should be set up in the pig house, and sewage should be treated before it can be discharged out of the field. 
(5) The floor design of the pig house should be easy to clean and clean.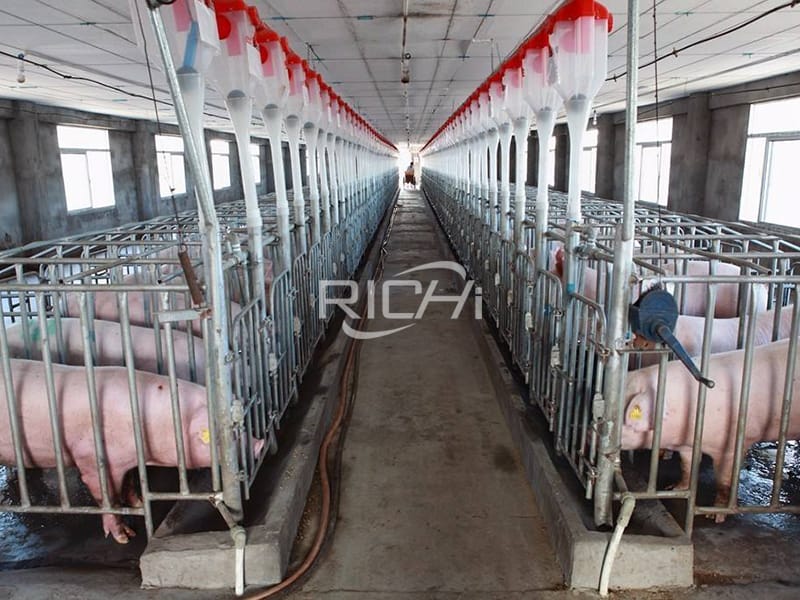 3. The pen doors of various pig houses  
The width is 0.8 meters and the height is about 1 meter. Regardless of the various doors, they all open outwards.
4. Selection of pig house construction equipment for small pig farms   
The application of modern electromechanical equipment has improved labor productivity, shortened the feeding cycle and increased the commodity rate. Therefore, we must make full use of various advanced technologies and equipment.  
(1) Stable facilities: round farrowing pen, delivery alarm, etc.
(2) Feed processing equipment: such as animal pig electric feed grinders,pigs fodder mixer machines, top sell pig feed pellet making machines, etc.
(3) Feeding equipment: self-disposal drinking fountains, automatic food containers, automatic feeding systems, etc. 
(4) Pig house ventilation system: negative pressure ventilation is the simplest and cheapest way of ventilation. 
(5) Pig manure processing equipment: The pig manure is processed into feed to feed the minions and fish, and part of it is added to the pig feed to save pigs. The promotion of dry manure removal technology greatly simplifies manure treatment. 
(6) Pig loading platform: Pig loading platform not only reduces the labor of workers, but also guarantees pig health and product quality. The height of the platform part of the pig loading platform is required to be the same height as the base of the car box or tractor body; the inclination of the pig loading platform should not exceed 10%.  
5. Pay attention to pig house construction  
(1) Orientation of the pen, 15-30 degrees south and east from the north is best. 
(2) Complete supporting facilities, disinfection equipment for personnel entering the site, and sufficient places for the treatment of sick and dead pigs.  
(3) The ability of the pig house to adjust the environment to ensure the temperature, humidity, and air quality of the pig house. 
(4) Design the technological process based on the possible indicators of actual scheduled pig production.    
If you have the following questions, welcome to consult Richi Machinery:
30 ton per hour turnkey large scale animal feed processing plant design and layout
China animal feed production plant manufacturers for zambia
requirements to set up a 10t/h automatic animal feed processing plant
5 ton per hour animal pig feed machinery for sale south africa
animal pig feed processing technology ppt
10 ton per hour animal feed processing machine specifications
most common methods for animal pig feed processing
animal feed processing machine specification
product silo in animal pig feed processing plant
richi 10-15t/h animal feed pellet line with silo system export to uzbekistan
If you want to built one complete pellet production line in your country, pls send the inquiry to us. We will customized design according to your requirement.
Get The Quotation and Video.