How to build a high-quality feed project?
Nowadays, what elements are needed to build a high-quality feed project? Based on years of experience in the construction of complete sets of projects, Richi summarizes the following points for you:
① Reasonable factory environment planning
② Detailed quality standards for process equipment
③Strict WBS node management and control of engineering construction
④International standard quality control system
⑤Continuous innovation of smart factories
⑥ Stable and reliable equipment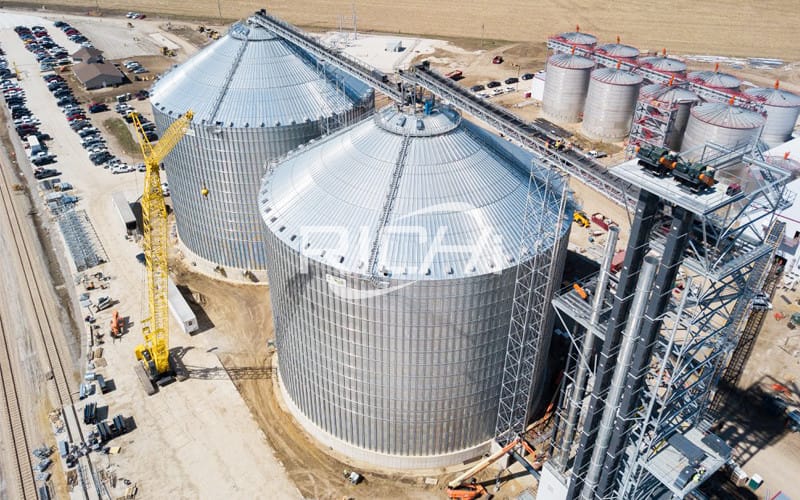 1. Reasonable factory environment planning
Reasonable plant planning is the first step in a good feed project.
From the site selection of the animal feed pellet factory to the design of environmental protection and safety supervision, the functional division of the plant area determined by the process must meet the requirements of the production process, fire protection and environmental protection requirements, and urban planning requirements. For the emission of waste gas from feed mills, the dust odors and exhaust odors discharged from pulse fans in the crushing, cooling, and drying sections need to be centrally cooled, and then subjected to activated carbon purification treatment and UV photolysis exhaust gas purification treatment to achieve Europe and the United States. Emission Standards.
In the noise treatment, sound insulation and vibration isolation materials are used; mufflers are installed on the inlet and outlet pipe sections of the fan to control the noise radiated outward from the inlet and outlet.
The separation of rainwater from production and domestic sewage and the separation of production and domestic sewage in the feed factory should be planned and designed in advance, and separate settling tanks should be set up to drain the production wastewater and the wastewater and rainwater generated by the office canteen to their respective Settling ponds are discharged separately after settlement.
2.Detailed quality standards for feed production process design
The professional design team of Richi Machinery has a set of strict and detailed design quality standards from the factory master plan, process plan, and three-dimensional display of renderings to the three-dimensional detailed design of the project. For each specific factory process design, we will start accurate planning from the raw material entering the factory door, storage planning, various types of warehouse group planning, logistics line planning, batching mixing planning, crushing and granulation planning, finished product storage release planning, grease storage addition planning , Boiler and transformer planning, electrical control automation system planning and engineering details customization planning, to ensure that the factory is safe, automatic, efficient, energy-saving and environmentally friendly, clean and beautiful.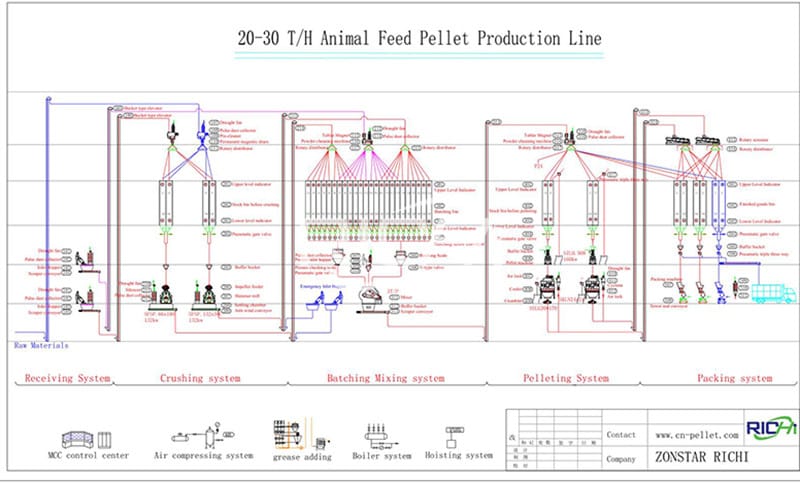 "Details determine success or failure", Richi strives for excellence in engineering details. We focus on the wear-resistant measures of equipment and pipelines, noise treatment measures of feed mills, the treatment of airflow, dust and odor, precise measures for dust and explosion protection, and careful energy saving. The quick disposal of tailings and miscellaneous wastes, equipment lifting, start-up operation, human-machine safety, and humanized ergonomic design allow customers who use Richi equipment and engineering reap a beautiful factory that is environmentally friendly, clean and highly efficient!
3.Strict quality standards for feed process design
Strict engineering construction WBS node management and control, Richi pays great attention to the technical details of the animal feed pellet making plant, and strives to be meticulous to every stage, every equipment, every component to be measurable, so as to avoid waste and maximize production quality. Richi's animal feed project management and control has a total of 255 nodes. It comprehensively controls the progress, safety and quality of project construction. The total construction period of the site construction is accurately controlled. The company leaders can understand the progress of the project in real time. Safety quality is done in the first place Make accurate decisions.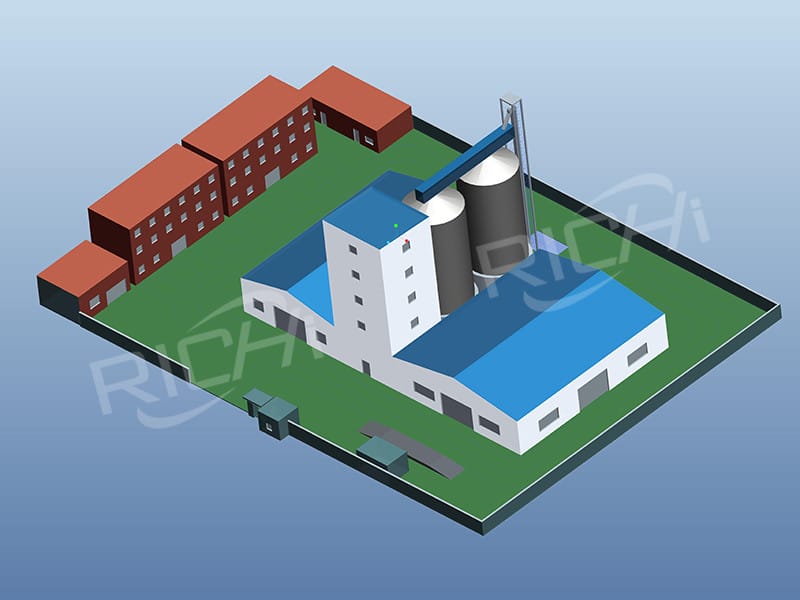 The progress of the project is reported in real form to the working WPS node every day. Horizontal comparison can also be made between the various engineering projects, which is more secure than progress than quality. Display the achievement rate of each project and department in the form of bar chart, wave line chart, and pie chart, provide intuitive data basis for the management and control of senior leaders, and achieve good project delivery in time.
4.International standard quality control system
Adhering to the concept that quality begins with design, engineering completely eliminates design errors! Adopt international advanced design software, modularized, parameterized design and quality control system, three-dimensional display model, at a glance at the design stage, "with confidence", automatically generate engineering drawings, section drawings and non-standard prefabricated drawings, eliminate errors and guarantee The design is refined and standardized.
Richi's leading standardized quality control system embodies perfect engineering. 86 categories, more than 450 prefabricated parts are designed with three-dimensional standardized modules, eliminating errors and beautiful appearance; reducing dead ends of connection links, reducing residues, and more convenient for operation and maintenance; prefabricated parts factory Standardized production and on-site assembly greatly shorten the installation period and improve the project quality.
5.Continuous innovation in automated factories
The development of feed engineering is inseparable from the innovation of the animal feed pellet automated production line. The dust-free hydraulic unloading shed for raw material receiving, automatic unpacking machine, and positive pressure of powder enter the warehouse. Raw grain cleaning automatically removes impurities and iron remover. In the crushing section, the crusher feed automatically discharges iron and removes stones, breaks the screen, detects the screen without stopping the machine, measures the temperature of the bearing, detects sparks, and monitors vibration. Batching and batching automatic check scale, micro scale system, automatic control of animal granule feed pellet mill machine in granulation cooling section, automatic oil injection of animal feed pellet mill, automatic gap adjustment of pressure roller, head material processing of pellet mill for feed, water content adjustment of cooler, etc. The workshop's technology brings unlimited possibilities for development.
6.Stable and reliable equipment
Stable and reliable equipment is the basis of good feed engineering. Richi always insists on continuous innovation in products. From the early development of large-scale pellet making machine to the development of a complete set of feed projects with feed machine, Richi is comprehensive in technology. Innovation and improvement have made the most complete and stable feed pellet granulator series in the industry! In terms of crusher equipment, Richi's technology improves the efficiency of the entire crusher by 30%. In addition, the Richi feed mixer machine series has reached the international advanced level in function and technical content, and the transmission is more stable. It is a stable and reliable benchmark equipment in the industry and has been sold to hundreds of countries and regions around the world.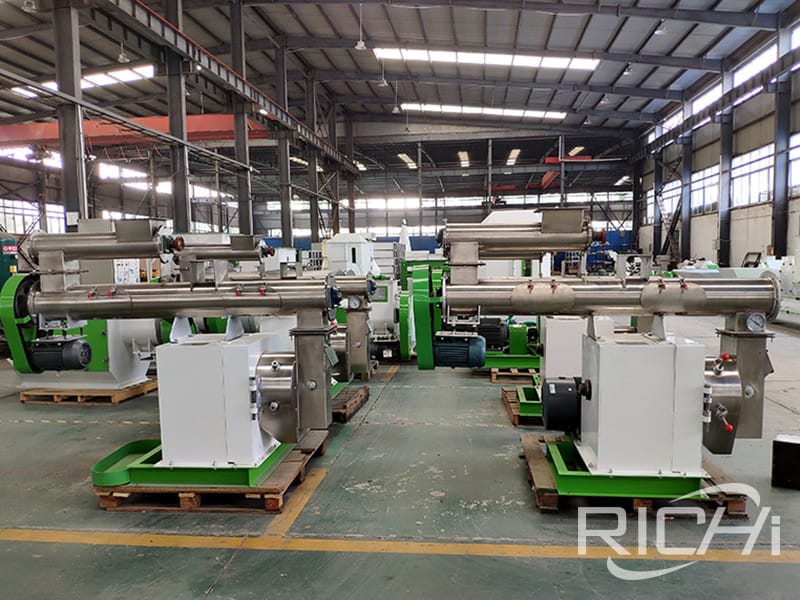 What can Richi do for you?
We can make your feed project start more stable, we can bring more efficient production efficiency to your feed factory, we can provide you with a more competitive feed factory in the industry.
If you want to built one complete pellet production line in your country, pls send the inquiry to us. We will customized design according to your requirement.
Get The Quotation and Video.