How much is a low horse power ce 500 kg/h wood pellet mill machine?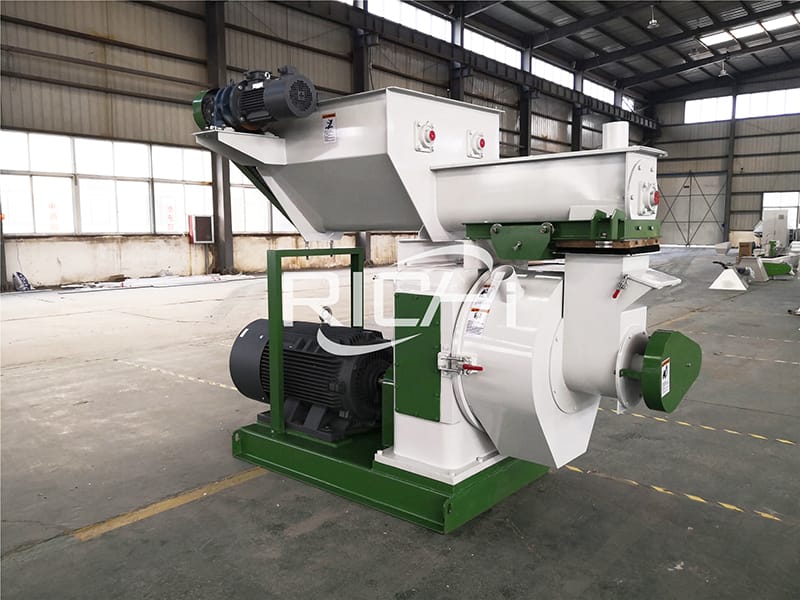 1.How much does a low horse power ce 500kg/h small wood pellet mill cost?
How much is a wood pellet making machine with 500kg/h production capacity?Cost to build a complete set low horse power 500kg/h wood pellet press machine is usually between 20000-30000 USD.
Nowadays, waste wood such as wood and branches can be said to be everywhere. Waste wood affects the environment and pollutes the air, taking away much of our living space. In some areas, you can occasionally see a 500kg/h wood pellet making machine at work, but their utilization of waste wood is only a fraction of the large amount of waste wood. Then, some friends will ask what they can do with the processed things? What raw materials can the 500kg/h wood pellet machine process?
Today, let's talk about this problem. Wood everywhere can be crushed and processed into wood sawdust, shavings, and wood chips by a 0.5 ton per hour wood pellet pressing machine. The processed raw materials can be made into biological pellets for combustion, machine-made charcoal, edible fungi, plywood and particleboard, Some farmers also use it as a gasket for burning in power plants, and the wood chips can be used as fertilizer and soft soil. If you want to engage in such wood processing, you can first consider the local resources and your sales. If possible, investing in 500kg/h wood pellet mill machines is a good choice.
2.Technical parameter of 500kg/h ce good stability wood pellet mill for sale
| | |
| --- | --- |
| 500KG/H Capacity Wood Pellet Making Machine Model | MZLH350 |
| Wood Pellet Mill Machine Anti-caking Feeder Power | 1.5KW |
| Wood Pellet Mlii Machine Forced Feeder Power | 0.55KW |
| Wood Pelleting Machine Power | 55KW |
| Wood Pellet Mill Capacity(wood sawdust,biomass) | 500-700KG/H |
| Wood Pellet Mill Capacity(grass,straw) | 800-1000KG/H |
| Wood Pellet Mill Machine Capacity(organic fertilizer) | 3-4 T/H |
| Wood Pellet Machine Final Pellet | 6-12mm |
| Wood Pellet Maker Weight(KG) | 3500 |
| Wood Pellet Mill Dimension(mm) | 2500*1100*1600 |
3.How does a 500kg/h horizontal wood pellet mill work?
Adopt the principle of interaction between the pressing wheel and the mold of the friction force between the pressing force and the mold, so that the material is formed. There is no need to add any additives or binders during the processing of the materials. Wood and other biomass raw materials contain cellulose and lignin. The lignin is a structural monomer in the material and is a phenylpropane-type polymer compound. It has the function of strengthening cell wall and binding cellulose. Lignin is non-crystalline, the main part is insoluble in any solvent at room temperature, has no melting point, but has a softening point. When the temperature reaches a certain value, the softening and cohesive force of lignin will increase, and under certain pressure, the cellulose molecular cluster will be dislocated, deformed, and stretched. The adjacent biomass particles inside will engage with each other, recombine and be suppressed.
The pelleting chamber is mainly composed of main motor, transmission mechanism, rotor, ring die, pressure roller, scraper, cutter assembly, body and door. The powdery material that has been tempered by the conditioner is uniformly sent to the pressing zone composed of two pressure rollers and ring die by the rotating feed cone and two deflection scrapers on the front plate, and passes through the ring die and the pressure roller. The relative rotating part gradually squeezes the powdery material into the ring die hole to form, and continuously extrudes to the outer end, and the shaped particles are cut into the required length by the cutter, and finally the shaped particles are discharged from the discharge port.
Note:
What Richi Machinery provides is a 500kg/h horizontal wood granulator. The working principle of the horizontal wood pellet maker machine with 500kg/h capacity is basically the same as that of the vertical commercial wood pellet mill, except that the horizontal type 500kg/h wood pellet processor uses the ring die in operation, and the vertical type uses the pressure roller to generate pressure and high temperature through the squeezing friction between the pressure roller and the ring die. The raw material is compressed into a solid cylindrical shape.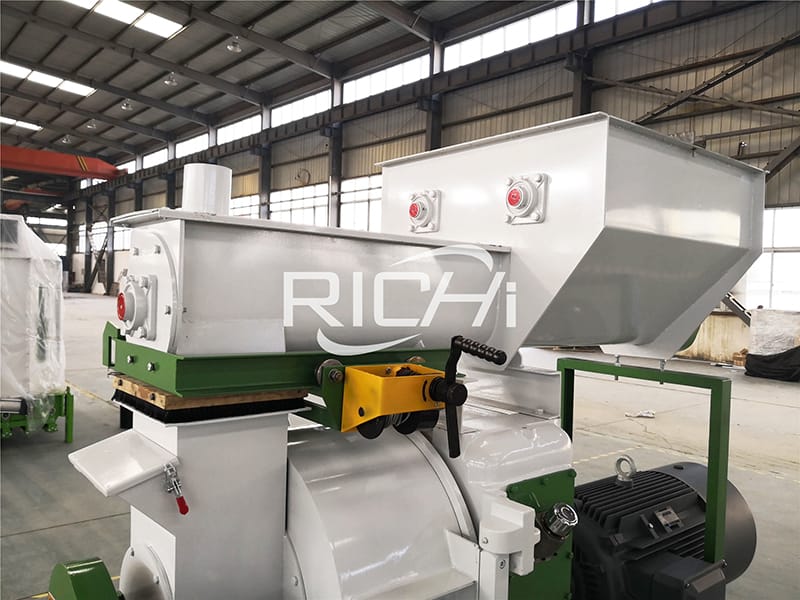 4. What are the advantages of the 500kg/h horizontal wood pelletizing machine?
(1) The bearing part of the 500kg/h ring die wood pellet making machine adopts an oil circulation lubrication system and a high-quality gearbox transmission system to make the equipment more robust and durable;
(2) The cross shaft adopts an overall design to ensure the rigidity of each shaft. The oil supply hole and oil return hole of the cross shaft adopt a composite hole structure design. The overall design adopts the principle of one hole to two rollers, which minimizes the friction caused by the lateral displacement of the pressure roller, which is beneficial to reduce energy consumption, reduce wear and improve the economy of the whole 500kg/h wood pelletizer machine;
(3) The 500kg/h wood sawdust pellet manufacturing machine has low energy consumption, high output, strong material adaptability, and long trouble-free running time;
(4) The 500kg/h ce wood pellet processing equipment feeds vertically, directly in place, has fine production, high processing technology, and adopts a double-layer body;
(5) The mold rotates, the pressing wheel does not move, and the material is centrifuged and distributed evenly around;
(6) The 500kg/h ce wood pellets fuel making machine is equipped with a fineness analyzer, which can control the fineness of the finished product at will, and can crush sawdust particles of different fineness;
(7) The 500kg/h ce wood pelletizer adopts a horizontal structure, which is conducive to heat dissipation and cooling of the pelleting chamber, which can increase the service life of the wood pellet mill machine.
5. What biomass waste materials can be pressed by the 500kg/h wood pellet processing machine?
Biomass wood pellet making machine with 500kg/h is a device that pulverizes paulownia, cypress, poplar, fruit trees, crop stalks, bamboo chips, etc. into sawdust and chaff, and processes them into biomass fuel. Due to the different raw materials used in various places, biomass pellet machines are also called 500kg/h wood pellet processing equipments, 500kg/h straw pellet machines, 500kg/h sawdust pellet machines, 500kg/h bamboo pellet machines, 500kg/h fuel pellet machines, 500kg/h rice husk pellet machines, etc. They are also known as hot selling good quality wood pellet mill sawdust pellet machine. Although they are called differently, they are all the same kind of wood pellet mill for wood pellets.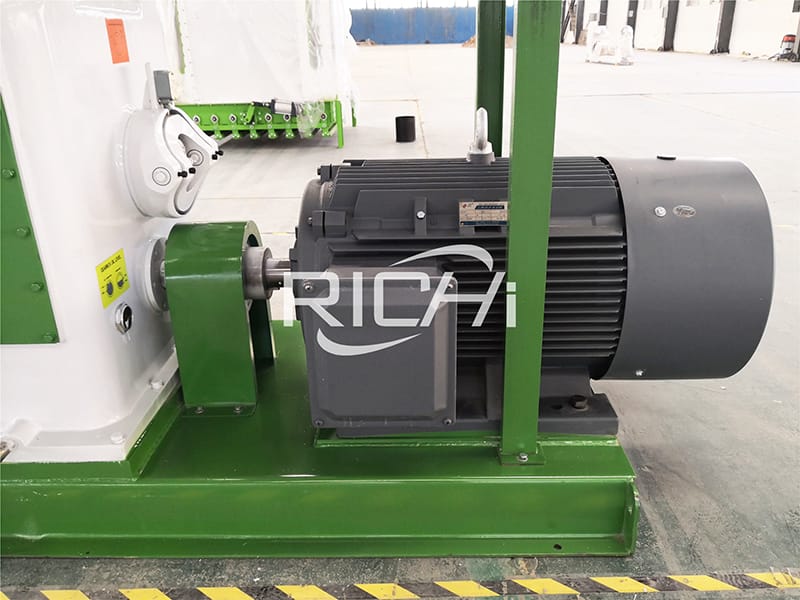 6. How to improve the production efficiency of 500kg solid wood pellet mill machine and increase benefit?
500T/H solid wood pellet mill machinery has become a very hot environmental protection equipment in recent years, but for novice operators, there will always be problems of this kind due to improper operation. If these problems are not handled well, it will directly affect the output of the 500kg/h biomass fuel wood pellet mill equipment. So how to improve the production efficiency of ce certificated wood pellet mills and increase benefits? Richi Machinery has accumulated rich experience in the production and sales of good feedbacke 500kg per hour wood pellet mill for many years, and summarized some tips, hoping to help everyone.
(1) Choose best price wood pellet mill for making wood pellets that suits your production capacity, such as the actual output of 0.5 tons. If you choose a high quality wood pellet mill machine with an output of 1-2 ton per hour, wouldn't it be overkill and waste?
(2) During the 500kg/h wood pellet making process, the feeding should be even, so as to ensure the smooth operation of the biomass wood pellet mill with CE, uniform granulation and no blockage.
(3) Control the gap between the mold and the pressure roller. After the material is cured at a high temperature, it is pressed by the pressure roller to form a shape, so that the wood pellets are dense, strong and beautiful.
(4) Choose the appropriate mold aperture according to your actual needs. If the aperture is too small, it will cause low output and no discharge, and will seriously affect the production efficiency of the 500kg/h stable performance wood pellet mill.
(5) Lubricate and clean regularly. Long-term friction between the mold and the pressure wheel will damage the mold. Regular oil injection and cleaning can not only ensure the cleanliness of the mold, but also reduce the friction between the two, reduce costs, and improve 500kg/h wood pellet maker production efficiency.
In summary, to improve the production efficiency of the 500kg/h ring die wood pellet mill machine to make pellets, in addition to selecting the China best price biomass wood pellet machine, it is also necessary to pay attention to some small details in the usual wood pellets production process.
Do you want to know more about ce certificate 500kg/h wood pellet mill from China? Contact Richi Machinery——a professional China wood pellet making machine manufacturer.
If you want to built one complete pellet production line in your country, pls send the inquiry to us. We will customized design according to your requirement.
Get The Quotation and Video.