Factory price small sized high quality 1.5 ton per hour biomass wood pellet mill for sale
In recent years, with the development of biomass pellet fuel and the support of governmental policies, businessmen have seen the good prospects of biomass fuel and the rich returns of the industry. (Read more: How to Make Biomass Wood Fuel Pellet?)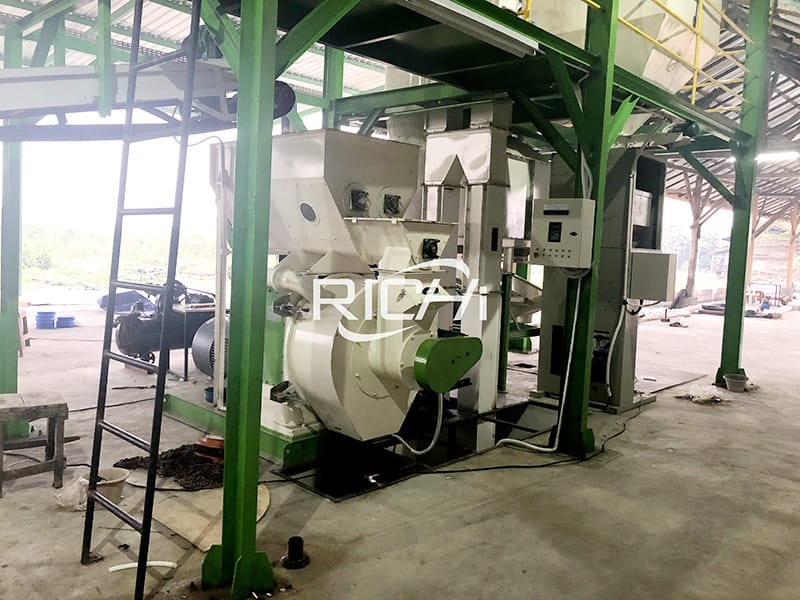 1.1.5 Ton Per Hour Small Ring Die Wood Fuel Pellet Mill for Sale
1.5 Ton per hour small ring die wood fuel pellet mill is designed to meet the demands of small biomass pellet making business or to setup small scale wood pellet plant. It can process a various biomass materials into fuel pellets, including hardwood, straw, wood chips, sawdust, etc. More importantly, it overcomes the shortcoming of poor pelletizing effects of crude fiber.(Read more:2T/H Waste Tire Fiber Pellet Plant in Poland)
2.Parameter of new designed 1-1.5 ton per hour small wood pellet mill
If you are not sure about the pelletizing effects of your raw materials, it is available for pellets making test at our factory. Welcome to contact us for more details!
(How to start your own biomass wood production line with best business plan?Visit:https://www.richimachinery.com/solution/wood-pellet-machine.html)
Model: MZLH420 Wood Sawdust Pellet Mill
Capacity:1000-2000 KG/H
The Size of Pellet Machine: 2800*1150*1730 MM
The Anti-caking Feeder Power:1.5KW
The Forced Feed Power :0.55 KW
The Pellet Machine Power: 110KW
The Final Pellet :6-12mm
The Weight : 4000KG
Just send us massage to get the price, terms of payment, delivery cost and more!
3.Design Highlights of ring die type 1.5t/h hot selling good quality wood pellet mill sawdust pellet machine
(1)The main drive of RICHI small ring die pellet mill adopts high efficiency belt drive to achieve non-stop refueling.
(2)There is a cooling system added to the granulation chamber, which ensures continuous working and prevent overheat of the pellet machine over 8 hours, protects electric motor and electrical parts, and eventually lengthen its life span.
(3)The ring die is quick-release hoop type, so it is easy to load and unload it.
(4)Variable frequency speed feeding to ensure uniformly materials feeding.
(5)The cover, chute and feeder are all built with stainless steel to guarantee long service life.
(6)The ring die mold can be customized according to the property of raw materials and the requirements of customers.
All the designs of our 1.5 ton per hour professional design biomass wood pellet machine are conducive to high quality pellets and long-term performance. So, buying it to make biomass fuel pellets can greatly improve the efficiency of pelletizer and save pellets production cost!
4.Practical Value & Application Prospects of best price 1.5 ton per hour small ring die biomass wood pellet machine
Nowadays, making straw into biomass pellets is the main direction of straw in the future. Biomass fuel pellets don't contain sulfur and phosphorus, have high carbon content and feature full combustion. It produce a small amount of ash (potash), the air pollution is very small and is worthy of promotion. However, at present, the amount of straw used to make pellets is far less than that of other biomass materials, so the waste (bamboo, wood, etc.) with high calorific value and easy to collect and transport, is the first choice for fuel pellets manufacturers. Ring die pellet machine has a place in the recycling of waste, if a large number of pellets can replace coal, to improve the environment is of great benefit.
For 1.5t/h biomass pellet mill made in China, they should be improved in the adaptability, energy consumption and maintenance costs and other aspects. If the moisture content of pelletizing raw material increases from 20% to 40%, then most raw materials can be pelletized directly without drying. If the freshly pressed pellets are not hot (ineffective thermal energy is reduced) and kept at about 50℃, then the pellets can be packaged directly without cooling; If we can find the material with higher cost performance and suitable for the production of ring die (now mostly 40Cr after tempering), the service life of ring die pellet mill will be improved, then the cost of equipment operation and maintenance will be reduced. Based on the above analysis, the problem that the pelleting industry chain needs to break through is to strengthen the research on biomass pellet pelletizing technology and improve the development of the pellet mechanism manufacturing quality industry chain. Specifically, if can reduce the drying link and the new pellet cooling processes, and improve equipment reliability, pellets production cost can be greatly reduced, is conducive to the further promotion of 1.5t/h ring die pellet mill for biomass wood fuel pellets.
In this industry, 1.5 tpn per hour ring die automatic wood pellet machine and biomass pellet fuel are closely relative and interdependent. Pellet is a new industry of downstream products, large-scale pellet manufacturers has the investment risk because of the early investment high return period is relatively long. Therefore, to help pellets manufacturer to gain profits by setting up complete biomass pellet manufacturing plant project, here are advice.
(1)The government should give policy support;
(2)The environmental protection characteristics of pellets should be widely recognized by the public;
(3)There should be convenient channels for storage, transportation and supply of pellets.
The application of pellets determines the promotion prospect of 1.5t/h low consumption ring die biomass wood pellet machine.
If you want to built one complete pellet production line in your country, pls send the inquiry to us. We will customized design according to your requirement.
Get The Quotation and Video.