5T/H aquatic sinking fish feed pellet processing line project in Uzbekistan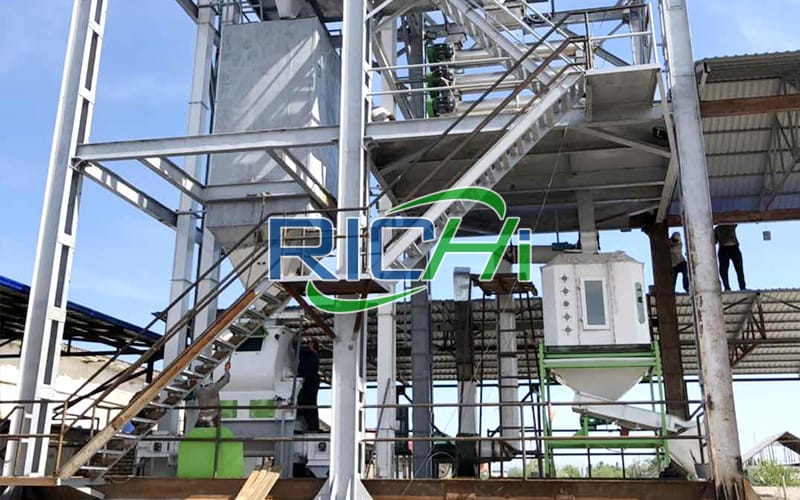 This customer is from Tashkent, and this is his second cooperation with RICHI. What he bought for the first time was a 3-5t/h powder feed and 1t/h forage feed pellet combined line, and this time he bought a 5 ton per hour sinking fish feed pellet production line for carp feed, because he also operates his own large carp farm.
According to the feeding features of different aquatic animals, benthic animals like sinking fish, which are used to finding food at the bottom of water and using a slower way of eating, the feed pellets cannot be too hard, and minimize the loss of small debris during eating process. Therefore, the sinking fish pellet feed is more suitable, it is easy to absorb water and to be soften, also can reduce the loss of small debris, the feed waste and water pollution. Moreover, sinking fish pellet feed has long water resistance and high maturity.
Before signing the contract, the customer has made many investigations to RICHI,and visited one 10 ton per hour fish feed line project in China constructed by RICHI,and he expressed his satisfaction with RICHI's professional, systematic, stable and reliable products and services through on-the-spot investigation on high-grade shiking fish feed pellet processing line.
The main fish feed equipment of this project includes fish feed hammer mill machine*110kw,fish feed mixing machine*1000kg/batch,ce three-layer ring die sinking fish feed pellet making machine*110kw,cooling machine*SKLN17*17, pellet crumbler*SSLG15*150,sieve and packing machine,other auxiliary equipment,the 5tph entire fish feed line project covers an area of ​​8m*5m*14m.
In this case ,a new type of conditioner has been equipped to make the final feed maturing degree and uniformity better than the traditional ways.Conditioning plays a particularly important role in the production of sinking fish feed. When producing sinking fish pellet feed, we should weaken the strong effect of pelleting to enhance the effect of conditioning. Adding water and steam when conditioning and enough conditioning time can soften and mature the material fully, and can create better pelleting conditions. In this way, the material can be further matured and made into sinking fish feed without larger pelleting degree. Adequate conditioning can improve the digestibility, water resistance of feed, and improve the stability of pelleting, namely the uniformity of products.
3D digital design with accurate design creates a comprehensive project. This series of links from the whole set 5t/h fish feed processing plant layout, process design, equipment personalization, installation and commissioning, electrical control, to production technology, maintenance training, etc. are all the industry leading, helping the customer achieve the business objectives.
Up to now, RICHI has built more than 100 high-quality fish feed production lines for global customers, which not only helps dealers and farmers to improve feed quality, creates benefits for customers, but also helps customers meet the requirements and expand the market competitiveness.