3-5T/H China supply poultry chicken feed pellet making plant project in Uzbekistan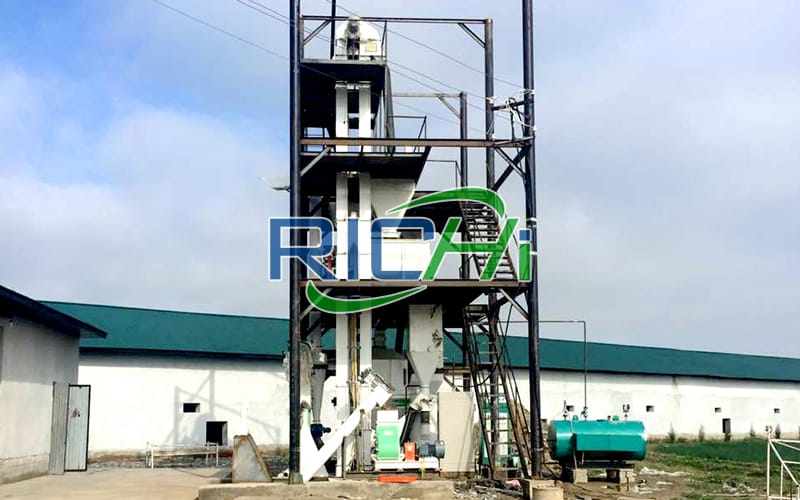 This project customer comes from Samarkand. RICHI's first project in this area was installed in the end of 2017, and one year after that project was put into operation, RICHI once again cooperated with customers in the area for a 3-5 ton per hour chicken feed line project. This is a 3-5t/h turnkey poultry chicken feed mill plant project, without any competitors, customers directly contact RICHI to discuss cooperation. It only took two weeks from the beginning of the negotiation to the signing of the contract. The successful signing of this order is based on the operation and profitability of our first 3-5 ton per hour broiler chicken feed pellet processing line in the region, because the customer contacted us directly after inspecting the project. Moreover, after signing the contract, the customer told us very confidently that he can use RICHI equipment to produce higher output feed.
Today, The field trial operation proves that the actual measured output of RICHI's 3-5 tons per hour chicken feed pellet production line is up to 5.5 tons, the operating current only accounts for 55% of the rated current of the motor.
This project covers an area of 9*6*13m, and the main chicken feed equipment includes: poultry chicken feed grinding machine*37KW, broiler chicken feed mixing machine*500kg/batch, widely used ce broiler chicken feed pellet maker*37KW, pellet cooling machine*SKLH14*14, pellet crumbler*SSLG15*80, vibrating screener ,automatic packing machine,500KG/H Electric Heating Boiler,etc.
Recently,in order to expand production scale, introduce advanced feed processing equipment, and improve economic efficiency, the customer planned to add a new chicken feed manufacturing line. Based on the trust in RICHI products and services, the client is currently discussing this new project with us.
Richi Machinery has always adhered to the core value of "Unity at Heart" and list "create value for the customers" as the first priority. From such angles as research, development and design, integrated solutions, services, channels, etc., we aim at providing long-term, stable, competitive assurance so as to realize maximum interest return and we are dedicated to becoming the most trustworthy cooperative partner of our clients.