10 Tons per hour turnkey poultry chicken pellet feed manufacturing plant project in Uzbekistan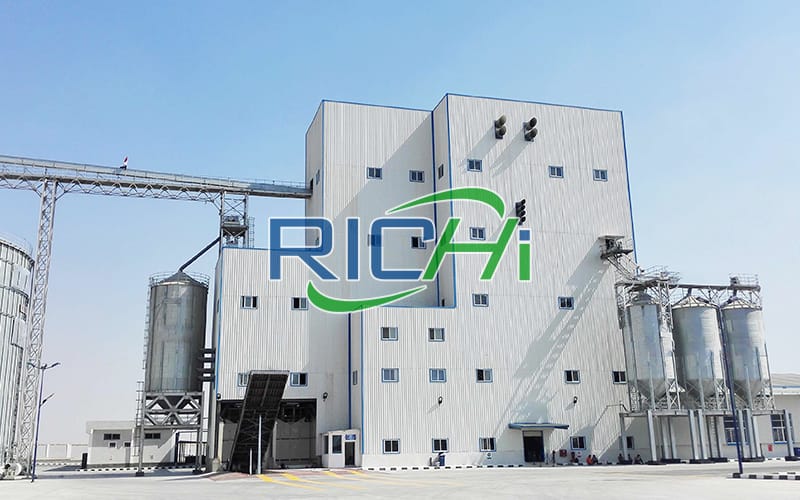 In May 2020, the 10t/h poultry chicken feed mill plant project in Fergana,Uzbekistan, undertaken by Richi Machinery, was officially completed and put into operation after installation and commissioning. So far, the total power 410kw poultry feed production line for powder feed and 3.5mm pellet feed runs smoothly, and is highly praised by customers for its high efficiency, low consumption and safety.
The customer's initial demand was a 5-7 ton per hour chicken feed pellet production line, and according to the customer's needs, we have successively provided 8 chicken feed pelleting line solutions. After one month of negotiations, the output of the chicken feed mill factory became 10 tons/hour due to the increase in the investment amount of the customer. The engineer team of RICHI re-modified the plan according to the latest needs of customers. The program design time of this project took 3 months. We provided a total of 22 customized 10tph chicken feed mill solutions to customer. In the end, meticulous and rigorous attitude, stable and reliable equipment, excellent product quality, and excellent engineering quality made RICHI stand out.
RICHI, as a complete animal feed processing system solution provider with a strong sense of responsibility and capability, has undertaken more than 2,000 high-quality feed projects for domestic and foreign customers. The 10 ton per hour Uzbekistan poultry chicken feed production factory project, which includes two pelleting production lines, is one of the largest poultry feed mill projects in the local area.
This project uses common chicken feed raw materials such as corn and soybean meal.The whole set of equipment has made greater breakthroughs in function, material quality and service life of vulnerable parts, with advanced structure, stable operation and high degree of automation.Main machine in this project:Poultry Chicken Feed Hammer Mill Grinding Machine*110kw;Batching Scale*1000kg/batch;Poultry Feed Mixer Machine*1000kg/batch;10TPH Poultry Chicken Feed Pelletizer Equipment*110KW;Pellet Cooling Machine*SKLN20*20;Crumbler Machine*SSLG15*150;Vibrating Sereen;1000kg/h oil boiler,Automatic Bagging Machine and other auxiliary equipment.
Lack of skilled installation team is a major difficulty in the whole project. Therefore, RICHI arranged engineers and installation team from home to work with local workers to overcome difficulties, ensuring the installation quality. Customers showed their high recognition to both party's cooperation and awarded medals to our engineers, to express thanks for product quality, service quality, friendly cooperation, and the vision of better development in the future.
Based on the feed industry, Richi Machinery — the manufacturer of advanced high quality animal feed machinery in China—has innovated and developed a series of technological equipment, with the sole purpose of producing feed products that are "safer and more nutritious, with higher-efficiency and lower consumption, greener and more environment-friendly", forging "an animal feed production line with value-maximizing ".