10-15TPH chicken mash feed and pellet feed production line with silo storage system in Uzbekistan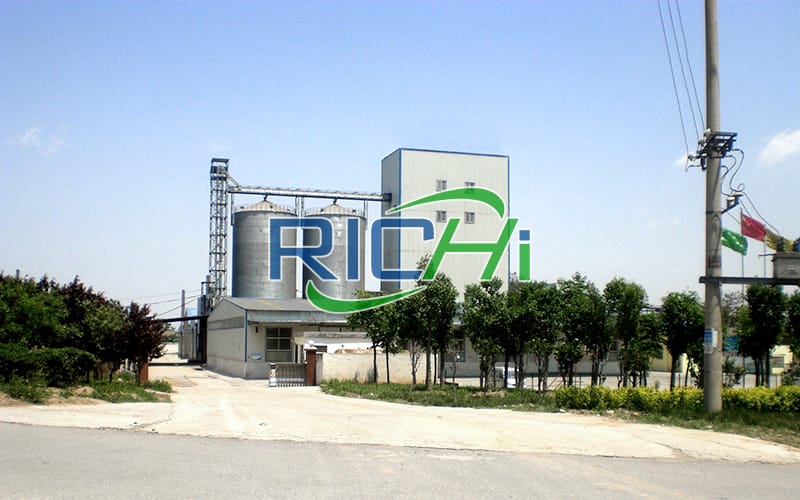 With the development of Uzbekistan's feed processing industry, more and more local customers are optimistic about the prospects of the feed market. The customer in this case is from Urgench,Uzbekistan, who has been engaged in the feed industry for a long time and previously had his own small feed production line of 1-2 tons per hour. Since the profitability is very good and based on the confidence in the prospects of the feed industry, this time he plans to expand the production scale, eliminate the original equipment, and build a 10-15t/h commercial chicken feed mill factory. Based on the reputation of RICHI in Uzbekistan, the customer found RICHI for the first time.
There are also some well-known animal feed mill factories in the local area,so it means great challenge. How to seize market advantages has become the biggest problem for customer.Therefore, it has put forward higher requirements for the output and equipment quality of the feed plant.However, RICHI is professional, and RICHI is the confidence of customer.In the course of many smooth negotiations, the customer directly signed a project with us for a 10-15 ton per hour chicken feed mill factory with 500 ton galvanized silo system.
In the early stage of this 10-15 ton per hour capacity turnkey chicken feed production factory project, RICHI appointed a large number of first-class installation and construction engineers, and made full communication with customer for many times. In terms of equipment installation and project layout, with the professional quality and unremitting efforts, RICHI team successfully completed the early planning of feed project with an annual output of 36000 tons within a very short time period.Currently this project is about to be installed.
The high quality of this 10-15t/h poultry chicken feed production line is not only reflected in the exquisite design layout and installation techniques, but in the high quality and efficiency of RICHI's feed equipment.Now learn more details about the chicken feed mill project:
This is a customized 10-15 ton per hour automatic chicken feed production plant, used to produce mash feed and 2-6mm chicken feed pellets, the raw materials are corn, wheat,soybean meal, sunflower seed meal, oil, premix,prime technology equipment include galvanized silo*500T, ce chicken feed grinding machine*110KW,batching scale*1000KG/Batch,chicken feed mixing equipment*1000KG/Batch,ring die poultry chicken feed pelletizer machine*110KW,chicken feed pellet cooling machine*SKLN20*20,chicken feed pellet crumbler*SSLG15*150,pellet screening machine and bagging machine,oil burning boiler*1000kg/h,1t/h gas type boiler,etc.The drawings we provide to our customers include:foundation drawings, installation drawings of steel structure, installation drawings of equipment
This 10-15 tons per hour capacoty chicken feed production plant project occupies an area of 35*20*25 meters, power consumption is 520kw/hour, installation time is 120 days, and there are 7 recognized assistance installations throughout the process.