Uzbekistan 1-2T/H Poultry Chicken Powder Feed Processing Line Project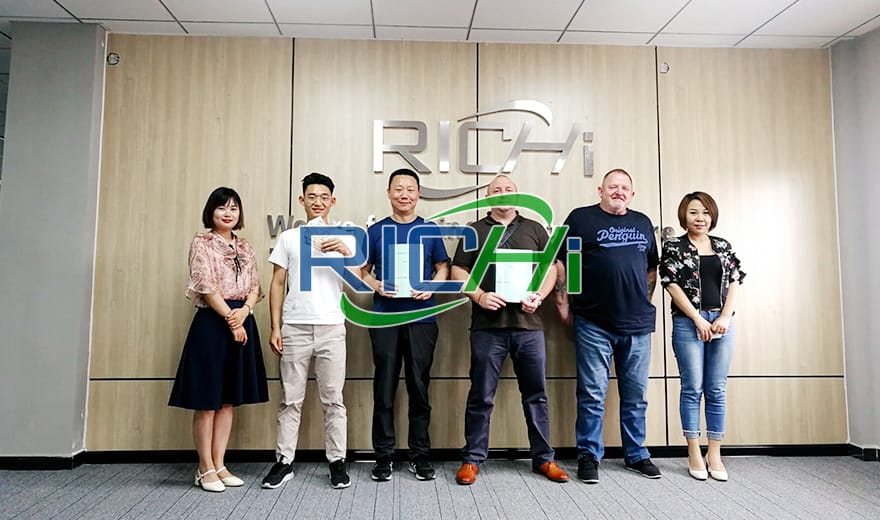 This customer is from Urgench and has his own chicken farm. He wants to build an easy to operate 1-2 ton per hour chicken powder feed production line for layer feed making, and all the processed feed will be used in his chicken farm.
This project was signed on September 21, 2020. The main equipment includes 37kw chicken feed hammer mill crusher, 500kg/batch single-shaft ribbon mixer, screw conveyor and some accessories. The 1-2 ton per hour easy use chicken powder feed production process we designed for our customer is very simple: Cleaning - Crushing - Mixing.
(1)Cleaning
Usually,there are impurities in the particle material,so they will first be put into the pre-cleaner to remove the stones,clods and ropes etc. from them,and the go to the permanent magnetic tube to remove the iron part.The Cleaning system will help you to get the clean material and ensure that there's no unexpected impurities to damage the following feed equipment.All cleaned materials will be stored and discharged in the bin for the chicken feed hammer mill.
(2)Crushing
Chicken feed grinding machine is the key machine of crushing system for 1-2t/h chicken mash feed line.Generally,we can divide the raw materials into two parts:one need to be crushed,the other need not.So when feed material to the 1-2tph chicken feed producing line,we will first separately feed them to different channels: particle materials go through feeding port to the corn grinder machine for chicken feed,mash materials go through feeding port to the feed mixer directly.
(3)Mixing
Evenly mix different materials into complete mash feed.All materials are mixed together in the 500kg/batch chicken feed mixer.Usually the volume of the bin for mixer,mixer and the buffer bin are all the same to ensure the mixer can work continuously batch after batch.Here should note that must make sure the materials every batch in the mixer are accurate to chicken feed formula(so have to weigh the material every batch before feed them to the feeding port.).Premix feed are delivered into the mixer directly because of the small quantity and accurate requirement.Mash feed(or powder feed) after mixing can be called complete feed now.
It can be directly used to feed laying hens. If the customer needs to sell the feed, a packing scale can be added later.
With the continuous innovation and progress of technology, it has become a trend to choose RICHI processing technology to produce chicken feed. Customers from Tashkent, Urgench, Samarkand, Fergana, Karshi... They have introduced RICHI chicken feed processing technology production line to seek breakthroughs in feed market, seize the opportunity and create profits for themselves.