Uzbekistan 0.8-1.2 T/H Ruminant Feed Processing Line For Cattle Sheep Chicken Fish Feed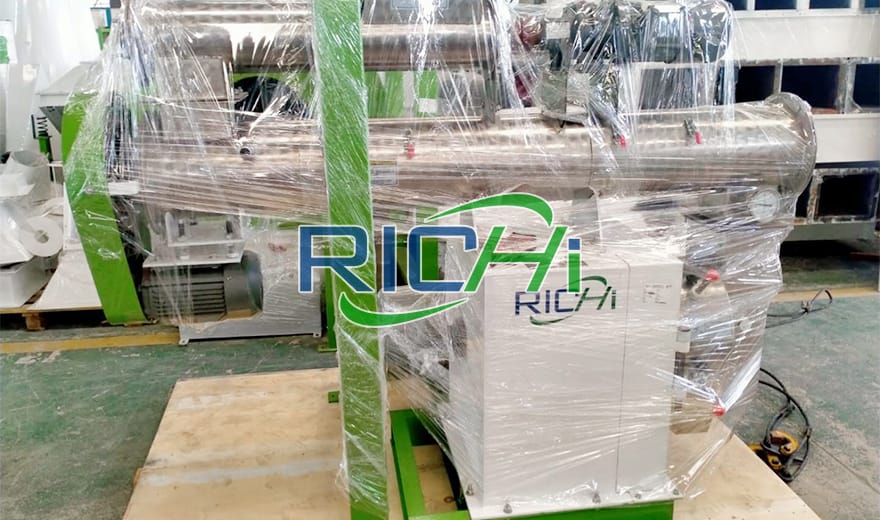 The location of this 0.8-1.2t/h animal cattle sheep chicken fish feed processing line project is in Karsi, and the customer has not had any contact with the feed processing industry before. Like many Uzbekistan customers, this customer also saw the prospects of the local feed processing industry, so he wanted to invest in a small scale feed production line to try. There are many types of feed that customers want to process, including 8mm cattle feed pellets and sheep feed pellets, 3mm sinking fish feed pellets, 2.5mm chicken feed pellets, and mainly processed ruminants. According to the customer's budget, we finally customized a low-cost and high-efficiency multifunctional feed production line for him.
Project advantages:
(1)The most suitable ruminants feed production line for cattle and sheep feed making
It has the advantages of high efficient production, high-temperature sterilization, flexible nutrition ratio, convenient storage and transportation, no waste of residue, especially in line with the rumination digestion characteristics of cattle and sheep. It overcomes the disadvantages of traditional divided coarse and fine feed which is not conducive to the healthy growth of sheep, and low efficiency of old type machine mixed feeding. Nowadays, it is the most advanced feeding technology and equipment in industry for making ruminate cattle and sheep feed.
It is worth mentioning that the installation of this 0.8-1.2 ton per hour animal feed production line for cattle sheep chicken fish feed is very easy, all of which adopt the pair-mounted type, which is easy to install and easy to maintain. According to customer feedback, this production line was installed in only 3 days, and it was put into use directly one week after installation.
(2)Equipped with upgraded SZLH series ring die cattle sheep feed pellet mill machine with double-layer conditioner
Due to the needs of customers who want to produce multiple types of feed, we have configured customized multi-purpose feed pellet mills for customers and equipped with three sets of ring dies.Humanized and automatic operation, efficiency is increased by 15%.Multi-point steam conditioning makes feed heated rapidly to improve the maturing degree and feed quality.Complete ancillary equipment further optimizes feed quality and enhance breeding benefits.
(3)Excellent equipment configuration with low cost
The main equipment equipped like SFSP cattle sheep feed hammer mill,single roller double rotary belt mixer are improved and optimized according to the physical characteristics of straw, forage and other coarse raw materials. The original conveying equipment, arch breaking equipment and storage equipment ensure its smooth production process.In addition, due to the customer's budget limitation, we have configured a cooling belt for the customer. Compared with the commonly used cooler,the cost of the cooling belt is low, which can reduce the customer's budget, and the simple configuration can also achieve the cooling effect.
RICHI, a responsible feed processing equipment supplier from China, will continue to use of its technological advantages in animal husbandry industry, to contribute to the healthy and sustainable development of the industry.