United States 10T/H Cattle Feed Pellet Processing Plant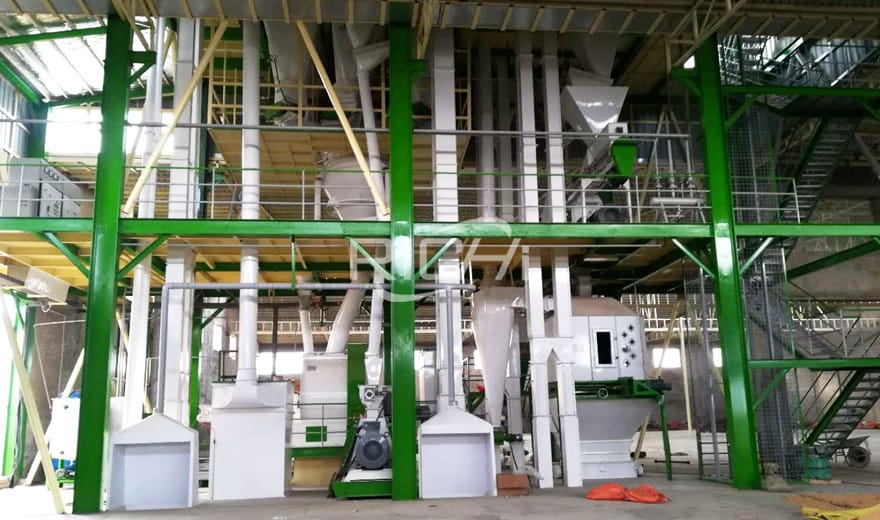 American beef exports have consistently ranked first in the world, which is something many people know. The United States has a large land area and a small population, which is very suitable for cultivation and breeding. Moreover, the agricultural production efficiency in the United States is high, and the degree of production mechanization is high. Large-scale forage harvesting machinery, feed processing machinery, feeding machinery, and tillage machinery are all available. The basic unit for the production of American cattle is individual farms, and farms with a breeding scale of more than 1,000 heads provide more than 80% of the beef. The feeding method is artificial planting of forage grass, after harvesting, green feeding or dry feeding, and fence type house feeding.
The United States mainly uses large-scale industrial chains to raise cattle. In terms of feed, most of the feed for cattle is their own crops, such as silage, corn, alfalfa, and wheat straw, which saves a lot of Feed cost. At the same time, a large number of mechanized operations in the United States completely solved the planting problem.
Among the cost of animal breeding in the United States, feed,equipment&plant and labor are the top three costs. Feed costs account for about 50%, and short-term fluctuations are large. Machine workshop costs account for about 20% and labor costs account for 15%. Both are relatively stable. In other respects, management costs are gradually decreasing, and medical epidemic prevention costs are gradually increasing. Today, as the scale of farming grows larger, the cost of feed in the United States as a percentage of total cost has continued to decline for two decades.
Against such a promising background, investing in cattle feed processing lines in the United States is a very high-return option. However, it is obvious that the purchase conditions of feed processing equipment by American customers must be very strict, but this time the entire process and mechanical equipment of this US 10-12 tons/hour automated production line are selected by Richi Machinery For complete sets of feed production equipment, when we confirmed to our customers why we chose Richi's processes and equipment, American customers very sincerely said: Processes and equipment directly affect the output and quality of feed. We were very cautious when choosing process equipment. We ran several enterprises in China and made a comparison and selection. In the end, we chose Richi Machinery. The reason is very simple:we value the advanced machinery technology and reliable equipment performance .
The customer's raw materials are grass, corn, wheat bran, soybean meal, and require processing of 1-12mm pellets. At the request of customers, Richi customized process plans and construction layout drawings of cattle feed production line. The size of the customer's plant is 16m*7m*7.5m, and the prime technology equipment is cattle feed hammer mill crusher*90KW, cattle feed mixer*1000kg/batch,factory price animal cattle feed pellet mill machine*160kw,cattle feed pellet cooling machine, pellet crumbler, pellet screener, automatic packing scale and other equipment .This production line is mainly used for processing cattle feed, but it also produces sheep feed and chicken feed at the same time, so the customer is also equipped with a crumbler machine.
Throughout the US project, the drawings we provide to our customers include:1. flow Chart; 2. installed drawings 3.pit drawings; 4 equipment layout; 5. the production construction design drawings; 6. steel structure full drawing and steel material list; 7 plan and sectional layout graph of workshop drawings; 8. steel structure construction drawings; 9. the detailed steel structure drawings and material list; 10.diagram of floor; 11. roof and wall reserved hole; 12. oscillatory coefficients of equipment; 13.operating instruction.