Turnkey 50,000 tons production capacity per year livestock animal feed plant factory project in China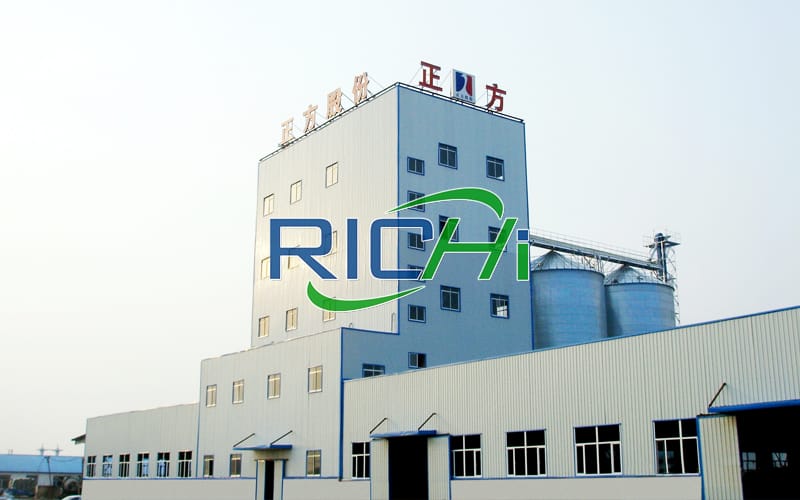 The turnkey project with an annual output of 50,000 tons of livestock feed and expanded corn is a new build project. The site is located 410 meters southwest of Xibuyin Village, Baotai Town, Pingyi County, Linyi City. The main construction content is feed and expanded corn production facilities, auxiliary facilities and public works.
The total investment of this 50000 tons per year livestock feed processing project is 4.8 million yuan, including environmental protection investment of 400,000 yuan, with a total area of ​​3564m2 and a total construction area of ​​3762m2. The project was completed and put into production in April 2019, and has formed an annual output of 50,000 tons of feed and expanded corn (full price feed 45,000 t/a, expanded corn 5 million t/a), and an annual sales income of 8,000 The annual average profit is RMB 2 million; the number of employees is 15; the annual production time is 300 days, 4800 hours, and the investment payback period is 2 years.
Complete formula feed is also called pellet feed, which can be fed directly without reprocessing. Complete formula feed feed is composed of protein feed (such as fish meal, beans and meal, etc.), energy feed (such as corn, wheat bran, etc.), rough feed (only used in low-standard compound feed) and additives (excluding grain and its supplements). Additives other than the product are called additives) a four-part compound feed.
This type of livestock feed product is also called a complete ration compound feed. It is usually divided into various models according to the feeding object (animal type, age, production purpose, etc.). This kind of feed can fully meet the nutritional needs of the feeding objects, and the user does not need to add any additional nutritive feeding substances, but must pay attention to choosing a complete compound feed that is consistent with the feeding objects.
The livestock feed contains energy, protein, mineral feed and various feed additives. The various nutrients are complete, sufficient in quantity and appropriate proportions, which can meet the production needs of feeding livestock animals and can be directly used for livestock animal production. Generally, there is no need to add anything to complete feed.
Expanded corn is also called expanded corn flour, which refers to the starch paste of corn under the combined effects of moisture, heat, mechanical shear, friction, kneading and pressure difference. It can be used as the main raw material for food and feed. Expanded corn has a loose, porous and uniform structure. The texture is soft and the starch gelatinization degree is improved. It not only has good color, aroma and taste, but also improves the nutritional value and digestibility. It can especially improve the weaning stress problems of young animals. Therefore, the use of puffed raw materials It is an effective way to promote the growth of piglets.
View the economic and technical indicators of this project: https://www.richimachinery.com/customer-guide/economic-and-technical-indicators-of-50000-tons-per-year-livestock-animal-feed-processing-plant-project.html
In view of the large market potential of perfect compound feed and expanded corn, combined with its own capital and technical advantages and the human resource advantages around the project area, the client decided to invest in the construction of an annual feed and expanded corn project, which was completed in April 2018, and has been put into production and has formed a production scale with an annual output of 50,000 tons of livestock feed and expanded corn (an annual output of 45,000 tons complete feed feed and 5,000 tons of expanded corn). The annual sales income can be 80 million yuan and the annual profit is 2 million yuan. Not only that, the completion and commissioning of this project can also solve the employment problem of 15 people, which has good economic and social benefits.
An annual output of 50,000 tons feed production equipment for animal livestock feed:
| | | | |
| --- | --- | --- | --- |
| Serial number | Livestock feed machine name | QTY | Remarks |
| 1 | Corn grinder | 2 | Corn crush |
| 2 | Expanded Corn Crusher | 2 | Expanded corn crush |
| 3 | Complete feed hammer mill crusher | 1 | Crushing of complete feed ingredients |
| 4 | Livestock animal feed pelleting machine | 1 | Granulation |
| 5 | Baler | 2 | Package |
| 6 | Extruder | 2 | Puffing |
| 7 | Air compressor | 1 | Gas source |
| 8 | Premix mixer | 1 | Mixing |
| 9 | Livestock feed mixer machine | 2 | Mixing |
| 10 | Screening equipment | 1 | Filter |
| 11 | Palletizer | 1 | Temporary storage |
| 12 | Oil storage tank | 1 | Oil storage (capacity 1t) |
| 13 | Corn storage | 2 | Store |
| 14 | Forklift | 2 | Transport |
| 15 | Fan | Several | Draw the wind |
| 16 | 1T/H natural gas steam boiler heating | 1 | Heat |
| 17 | Soft water preparation system | 1 | Soft water preparation |