1T/H floating fish feed pellet and 1-2t/h animal feed pellet pellet line project in Uzbekistan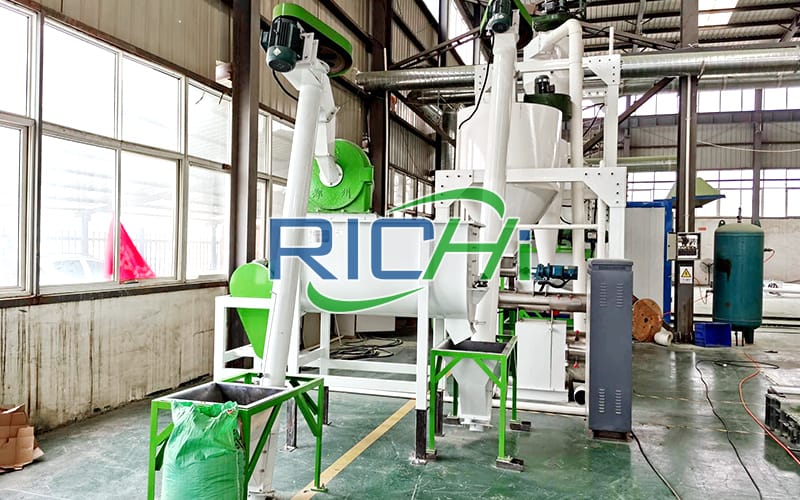 This is a customized animal feed combined line project for pellet, advanced structure and smooth operation, the customer's raw materials are Corn, soybean meal, oil, premix, used in the production of floating fish feed 1-1.2t/h, chicken feed 1-2t/h, cattle/goat feed 1-2t/h, particle size is 2-12mm.
This 1t/h floating fish feed and 1-2t/h cattle chicken feed combined line project started in January 2019, the installation cycle is 60 days, covers an area of 15*9.5*8 meters,and the project is currently in production.The main equipment of the project includes: 37KW animal feed hammer mill grinding machine, 500kg/batch fish chicken cattle goat feed mixing machine, 90KW floating fish feed extruder, 22kw ce ring die chicken cattle goat feed pelleting machine, SKLN11*11 pellet cooler, vibrating shifter, automatic packing machine, 1t/h steam boiler, etc
Configuration features:
Reach perfect balance between fineness and production.Once crushing mesh≤∅1.8, grease content ≤8%, moisture content ≤10.5%.
The new type conditioner can soften material fibers, improve gelatinization degree, reduce power consumption and increase production capacity.Intelligent control system, key data on-line monitoring, improve efficiency.
3.Double-shaft Efficient Mixer
Many kinds of liquid and solid can be added at the same time. The spraying is accurate and the control is convenient.
4.SZLH250 ring die animal feed pellet making machine with ce
The feeding system adopts stepless speed changing motor control, adjust speed conveniently and reliably. Could be equipped with microcomputer automatic control system adjusts feed-in quantity and throttle flow automatically,make pellet mill in the best working condition all the time.
5.SSLG pellet crumbler machine
It uses the differential speed principle of rollers to extrude and shear the materials, which breaks the large particles into irregular small particles.Roll protection device makes the roll automatically avoid collision when encountering hard foreign bodies, and protects the roll from damage.
6.SKLN11*11 Counter-flow Cooler
Use counter-flow cooling principle, full and uniform cooling.Use special slide valve discharging mechanism to discharge.The discharging mechanism runs smoothly and reliably, the discharging is smooth.Use mechanical leveling device, the discharging is accurate and sensitive.
The reasonable feeding structure ensures smooth flowing of materials.All parameters can be input by the panel.Automatic control of fast/slow feeding, bag clamping and loosening.
Through the introduction of automated feed equipment, the project can significantly reduce the labor costs and improve the production efficiency for the customer.