Brazil 1-2T/H Biomass Pellet Line For Wood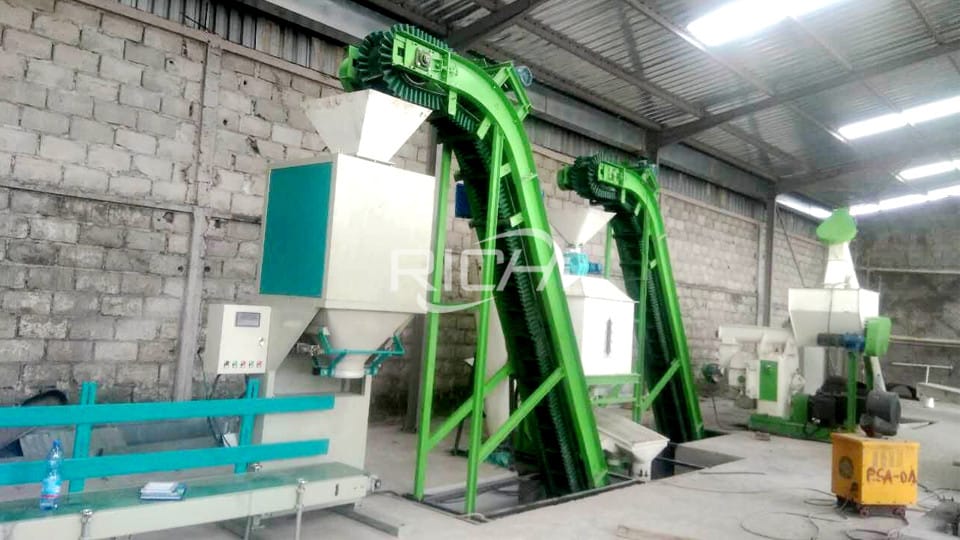 The Brazil project customer purchased a hot sale new type wood hammer mill machine from Richi, which is the second wood pellet processing line equipment purchased from us. Since the first purchased wood pelletizer is stable and always maintains a high output, the customer directly contacted Richi Machinery when initially preparing to replace the wood pellet line pelletizer, and reached a cooperation with us directly through the Alibaba B2B platform.
High quality wood hammer mill crusher for 1-2 tons wood pellet production line is mainly used to produce wood fuel pellets or other biomass pellets. The pellets used in power plants or home combustion, have higher combustion values and are easy to store and transport.
Brazil is the only developing country in the world that uses a large proportion of renewable energy to meet its energy needs. Biomass energy accounts for 45% of the total energy consumption structure. In addition to vigorously developing bioethanol, wood fiber biomass and waste It is also a biomass resource actively explored by Brazil.
Although charcoal is a traditional energy source in Brazil, due to the high deforestation rate, it will be phased out; for solid biofuels(direct combustion and pellet), Brazil uses solid Shape fuel to increase combustion efficiency and actively cooperate with other countries.
1.Typical 1-2t/h small wood pellet plant design
It is highly recommend for small scale pellet production or when the raw materials and budget are limited.
(1)Power: 127.5KW (with dryer); 109.5KW (without dryer); 200KW (with crusher and dryer)(There may be changes according to the actual situation of the customer)
(2)Capacity: 1-1.5 t/h biomass pellets (depending on the type of raw material)
(3)Wood pellet plant processing section: Crusher/chipper equipments → conveyor → sieve → small dryer (not necessary when the moisture content is low) → screw feeder → MZLH420 ring die wood pellet mill → conveyor → cooling system → bagger
(4)Features:
•Simple structure, one ring die pellet mill is stalled.
•Small space required (800-1500㎡), ash control is easy.
•Easy operation and labor saving.
•Easy maintenance
2.Expand knowledge:
(1)Application prospects of wood pellets
There may be changes according to the actual situation of the customerPellet plants have been constructed all over the world for pellet fuel production to ease the energy and environment pressure. However there are still huge demand for wood pellet fuel. It is estimated that there will be around 50 to 80 million metric tons of wood pellets demanded by EU nations by the year 2020. It means domestic wood pellet supply will be not sufficient to many countries and pellet plant constructing and pellet importing will be the way.
(2)Prerequisites for establishing a wood pellet processing plant
Building your own pellet plant does have some premises: raw material availability, location of factory, distance among factory, port and targeting market, etc. Lacking of full consideration of each one of said points may cause problems in production, logistics or shipment. Detail explanations go here:
•Raw materials: Which is the best choice for your pellet production, sawdust, wood chips, tree branches, straw, stalk, palm fiber? It is also necessary to consider overall quality of raw material such as, size, moisture, heat values, ashes, etc. When it comes to raw material, we are talking about not only what kind of pellets you are producing, but also the equipments you need with your pellet plant, as different material need different equipments. It decides the construction of wood pellet plant and the quality of final pellet products, that is, your investment and your profits.
•Wood Pellet quality: Quality is another factor affects your profitability when the market price is fixed. Superior quality will be your competitive advantage while bad pellet quality or a bad reputation for wood pellet quality will be lethal disadvantage. So quality biomass wood pellet mill is the most important choice you are going to make.
•Financing: Financing is very important for wood pellet plant construction and your profits . Generally, the investment and your pellet plant size are in direct ratio.